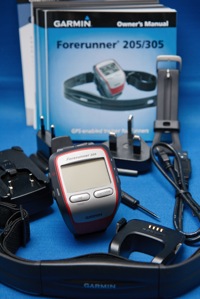 I took a new toy out running with me last night. I've been thinking about getting a heart rate monitor for a while now, and when I found out that RunKeeper lets you easily throw Garmin devices' data at their website, the Garmin Forerunner 305 — currently on offer for around £110 on Amazon UK
— seemed like a good choice.
So, it being bonus month, I decided to treat myself. This little GPS watch seems to work fine, though I'd probably be happier with the vibrating alert offered by pricier models than with the quiet beeping from the 305, which means I can't really run with music if I want to pay attention to its alerts.
But mostly, I bought it for the heart rate monitor, so I'll probably run with this recording my position and heart rate, but with RunKeeper telling me what to do through my headphones while I'm doing a training session.
The web upload to the RunKeeper site is great, too. Thanks to a browser plugin, there's no fiddling around with exporting files, or any of that annoyance. You just plug the 305 into its little docking station, go to the RunKeeper site, and choose which track from the watch you want to upload, straight from your web browser. Nice.
So, if you look at my latest track on RunKeeper, you'll see a third line, for heart rate, has joined the elevation and pace tracks in the graph at the bottom.
Now, of course, I've got to do a bit of reading up about heart rate-based training…
If you're in the UK, enjoy the nice weather and tomorrow's bank holiday! I'll catch you later on in the week…