And so ends another week where I only managed two runs. My lack of time this week was somewhat exacerbated by the current UK weather situation.
The UK media have been having a (waterlogged) field day recently, because if there's one thing that the British love talking about more than weather, it's ironic weather, and we're currently in the middle of severe rain and flooding. During a declared drought. With hosepipe bans in place. The news reporters are loving it, when they've got time to spare from asking awkward questions about Jeremy Hunt, anyway.
This morning, I checked the weather (using the rather swish WeatherSpark) and found that today would be fairly representative of April so far: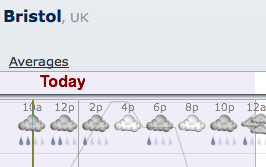 So. I decided to wait until later to get out of the door. In the end I headed out during the promised gap at about 8pm, which — surprise! — materialised exactly as promised.
As I'd been feeling guilty about not getting out for a second mid-week run, I decided to put in some decent distance today, and actually managed a whole 10K, which I was pretty pleased with. 1:14:27 is only five minutes away from my best 10K race time (almost to the second), so I think that was pretty good for running alone on a wet Sunday night…
This week is looking like more of the same, so I may try the same pattern again, fitting in a couple of longer runs rather than three shorter ones. Not too long until the Bristol 10K, so it's good to be getting some decent distances in!