I was due for my midweek run yesterday, but I got a call from some friends who were going to go ride on a steam train with their two boys — would I like to join them?
It turned out that the steam train was on the Avon Valley line, starting from Bitton, which is, handily, on the Bristol and Bath Railway cycle path. Trying not to think about how far along the path Bitton is — since I started getting on my bike again recently, I've probably not done more than five miles in the course of a single day — I got on my bike and set off.
I did pretty well on the way there, though Bitton was further along the 13-mile path than I remembered, definitely closer to Bath than Bristol. Then I had fun on trains. Here's me taking a photo of little Zach taking a photo of the Polish steam engine that was running the show yesterday: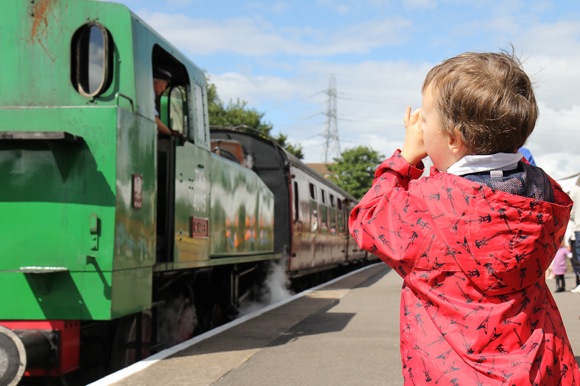 We had lunch in a good old-fashioned compartment as we rode along the little railway line, then had a cup of tea at Bitton.
And then I rode back, which was less fun that the ride out. My knees, especially my right knee, clearly don't like long cycle rides without much practice.
At least the last stretch of the path back to Bristol is gently downhill. Once back in town, I headed for the Workhouse Cafe and a melon and apple smoothie for recovery purposes 🙂
Overall, I did about 35km cycling yesterday, about 22 miles (I stopped the clock at the cafe, but I cycled home from there, too.) It was a lovely sunny day to be cycling down the path, with the added bonus for my poor knees that I didn't have to go all the way to Bath, at least 😀
I'll leave you with a picture of some of the "lineside equipment" at Bitton station…