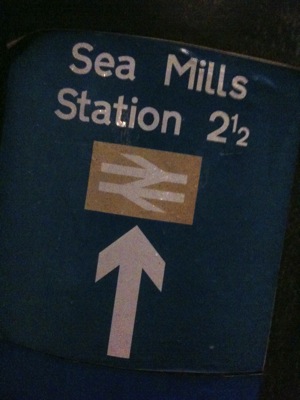 The television coverage of the London Marathon should have been a great inspiration to go jogging on Sunday. Unfortunately I was watching it from behind a hangover, on a sofa quite a long way from home.
I did, in the end, struggle out for a run on Sunday, but it was just a desultory jog around the local area, more so that I could say I'd been out than for any other purpose.
This evening, feeling a bit guilty, I headed out down the Portway to get in one of my midweek 5Ks, and passed this sign. On a whim, I thought, "well, five miles isn't that much further than five kilometres…"
So, I ran to Sea Mills station and back. It was a good run. The rain stayed away and I got to jog along the river at twilight, which is always nice.
I also put some music on, instead of the podcasts I've generally been listening to while running recently. Back when I started running, I listened to music all the time. Speech Debelle's first album, Speech Therapy
, got me through a lot of my early runs.
Tonight I headed for harder territory and spun up the shiny new Fields of the Nephilim live album, Ceromonies
. It was excellent running music. The power of Psychonaut pushed me through an uphill stretch, the (not-usually-to-my-taste) more metallic Shine had me sprinting between lamp posts, and it turns out my standard longer-distance lope is pretty much in time with Trees Come Down…
So, a bit of a wobble last week, missing a run and being too hungover for any distance on Sunday, but this week is off to a good start 😀 I'll try to get out again on Thursday, I reckon.